Tashtego Travel Kit
Sale price Price $39.99 Regular price Unit price / per
Tax included.
Tashtego is the ultimate solution to the long-suffering Dopp kit. Inspired by the neat and organized design of tool rolls, Tashtego is a clean, sanitary, minimalist way to organize and store all your travel essentials.  
Say goodbye to hair in toothbrushes and exploded shampoo over your razor. With Tashtego, all your brushes, razors, and bottles are securely separated from each other and easy to find.
Roll up all your personal care tools in a neat, organized, easily displayable kit. Never search for your toiletries again!
---
Measurements:
Length - 23"
Width - 10"
Rolled - 10" x 3"
Customer Reviews
08/09/2021
John M.

United States
Just what I've been looking for!
I have been wanting a better, more organized way of traveling with toiletries. I have tried Dopp kits, hanging toiletries kits and even some roll up kits, but they all have the same issue I inevitably end up digging for what I need. The Tashtego travel kit puts EVERYTHING I need in its place and keeps it there until I remove it! I used it this past weekend and could be more pleased! The construction is first rate and each slot/pocket feels like it is custom made for my gear! Thank you!
07/29/2021
James G.

United States
Forever and a day shipping
Product took three times as long to get to me as it should have.
06/08/2021
Josh C.

United States
Stocked, Locked & Ready to Rock
My Tego has been great since I got it. I keep it stock for travel, either business or personal. It's nicely organized to keep everything I need and the multiple ways to hang it give me an option whether in hotel, AirBnB or staying with family. I use a junky knockoff in my gym bag, so I'm excited to see what the next gen is and upgrade/add to the Tego family.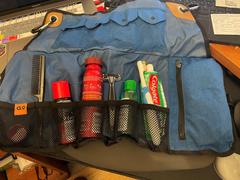 03/22/2021
Dong-Young K.

South Korea
작고 가볍습니다
딱 원하는 사이즈에 가방이네요. Edc 용품 수납하기에 좋고 일상가방에 부피 안차지해서 좋습니다. 추천합니다
01/07/2021
Tyler C.

United States of America
Exceptional!
Highly functional and well-made. I look forward to using this for many years!